David Shannon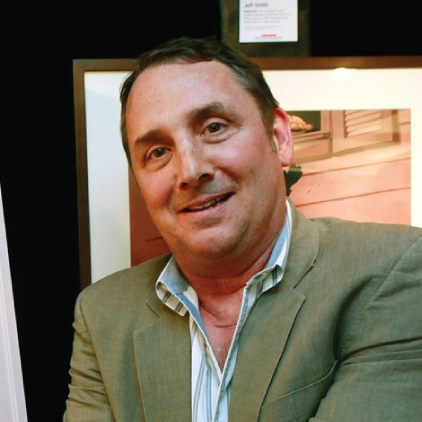 Internationally acclaimed picture-book creator David Shannon has always been an artist. At the age of 5, he wrote and illustrated his first book. On every page were pictures of David doing things he was not supposed to do — and these words: "No, David!" They were the only words he knew how to spell! Many years later, when his mother sent him that book, Shannon was inspired to write and illustrate his now-classic bestseller and Caldecott Honor Book No, David!
In the books he writes, Shannon often uses incidents and people from his own life. His daughter made animal noises before she could talk, so Shannon wrote Duck on a Bike, a story with lots of quacks, moos, oinks, and woofs. His entertaining picture book about a West Highland terrier, Good Boy, Fergus!, features the beloved family dog, and how can anyone with children not guess where Shannon got the idea for Too Many Toys?
In 1993, Shannon published How Georgie Radbourn Saved Baseball, the first book he wrote himself (as an adult!). It was a New York Times Best Illustrated Book of the Year, and in 2011, the Blue Sky Press published it again with a colorful new cover. Since then, he has written and illustrated numerous award-winning, bestselling books, including A Bad Case of Stripes; Alice the Fairy; The Rain Came Down; and three more picture books featuring David: David Gets in Trouble; David Goes to School; and most recently, It's Christmas, David!
Shannon once again breaks new ground with a dramatic but funny "fish tale" called Jangles: A BIG Fish Story, told by a father to his son. Luminous oil paintings pull the reader into a wild adventure when a boy pursues a very big fish that has eluded capture longer than anyone can remember. A page-turning tale that will mesmerize readers, Jangles: A BIG Fish Story was drawn from Shannon's experiences as an avid fisherman … and teller of tales. Here is a stunning, engaging picture book that begs to be read aloud again and again.
Born in Washington, D.C., Shannon grew up in Spokane, Wash. He graduated from Art Center College of Design in Pasadena, Calif., and then moved to New York City. His illustrations have appeared in a wide variety of publications, including The New York Times, Time, and Rolling Stone. And his art has graced a number of book jackets.
David Shannon now lives in Los Angeles with his family.
Photo Gallery
Video