Oliver Jeffers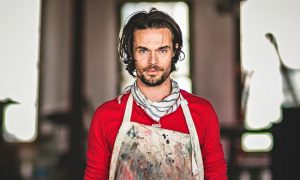 Oliver Jeffers makes art.
From figurative painting and installation to illustration and picture-book making, Oliver's work takes many forms. His distinctive paintings have been exhibited in multiple cities, including Lazarides Gallery and the National Portrait Gallery in London, the Brooklyn Museum and Spring Break Fair (Armory Week) in New York, and Gestalten Space in Berlin.
Oliver's picture books — including The Incredible Book Eating Boy, This Moose Belongs to Me, The Day Crayons Quit and its sequel The Day The Crayons Came Home (both No. 1 New York Times Bestsellers) and Once Upon an Alphabet — have been translated into more than 30 languages. Working in collaboration with Studio AKA, Oliver's second book, Lost and Found, was developed into an animated short film that has received more than 60 awards, including a BAFTA for Best Animated Short Film.
Picture book awards include The New York Times Best Illustrated Books, Smarties Award, Irish Book of the Year, The Red House Book Award, British Book Design Award, and The Blue Peter Book of the Year. Oliver won a NY Emmy in 2010 for his collaborative work with the artist and director Mac Premo. In 2013, Oliver co-directed with Mac Premo the video for "Ordinary Love" by U2, and more recently made art for, and helped art direct, U2's Innocence and Experience World Tour.
Oliver is from Belfast, Northern Ireland, and now lives and works in Brooklyn, New York.
Photo Gallery
Video