Garth Williams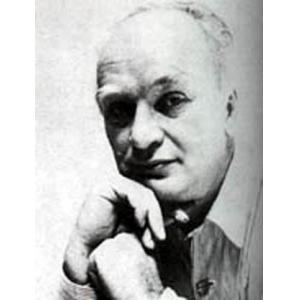 In 1912, Garth Williams was born in New York to a father who was a cartoonist and a mother who was a landscape painter. He was destined to be an artist from the beginning. His father enjoyed telling a story about Garth drawing a picture of a pine tree on a steamy kitchen window with his finger while sitting in his high chair. As he grew older, Garth continued to show an interest in drawing and also developed a love for music and was able to play several instruments.
In 1922, the Williams family moved to London, and Garth considered becoming an architect, even drawing fantasy houses. The Great Depression halted the building industry, though, and his family scraped together enough money to send him to three of months of art school instead. He later earned a four-year scholarship to London's Royal College of Art, specializing in portraits and sculptures. He entered the 1936 British Prix de Rome sculpture competition and won, allowing him to study in Italy for two years. During World War II, Garth worked on the British Red Cross ambulance crew. He moved to New York in 1941. During the war, he advised companies about camouflage and worked in a lens-making factory. He also sold drawings to the New Yorker and showed his art to an editor of children's books at Harper & Row. He was asked to create illustrations for a new book by author E.B. White called Stuart Little.
The charming story and playful lines of Garth's illustrations made Stuart Little a big success. More successful books followed, including another pairing with E.B. White in 1952, Charlotte's Web, and several projects with author Margaret Wise Brown, including Home for a Bunny. Garth illustrated more than a dozen Little Golden Books. To illustrate the Little House on the Prairie series, Garth spent six months researching and traveling to Missouri, Minnesota and South Dakota and meeting author Laura Ingalls Wilder. The books were published in 1953 and have sold 60 million copies, spawning a TV series and movies.
Garth eventually settled in Mexico, but continued illustrating into his 80s. He passed away in 1996. Children of all ages all over the world continue to enjoy his wonderfully illustrated books.
Photo Gallery
Video